Battle of the Brands 7.21
Posted by Krys Benyamein on Thursday, July 14, 2022 at 3:34 PM
By Krys Benyamein / July 14, 2022
Comment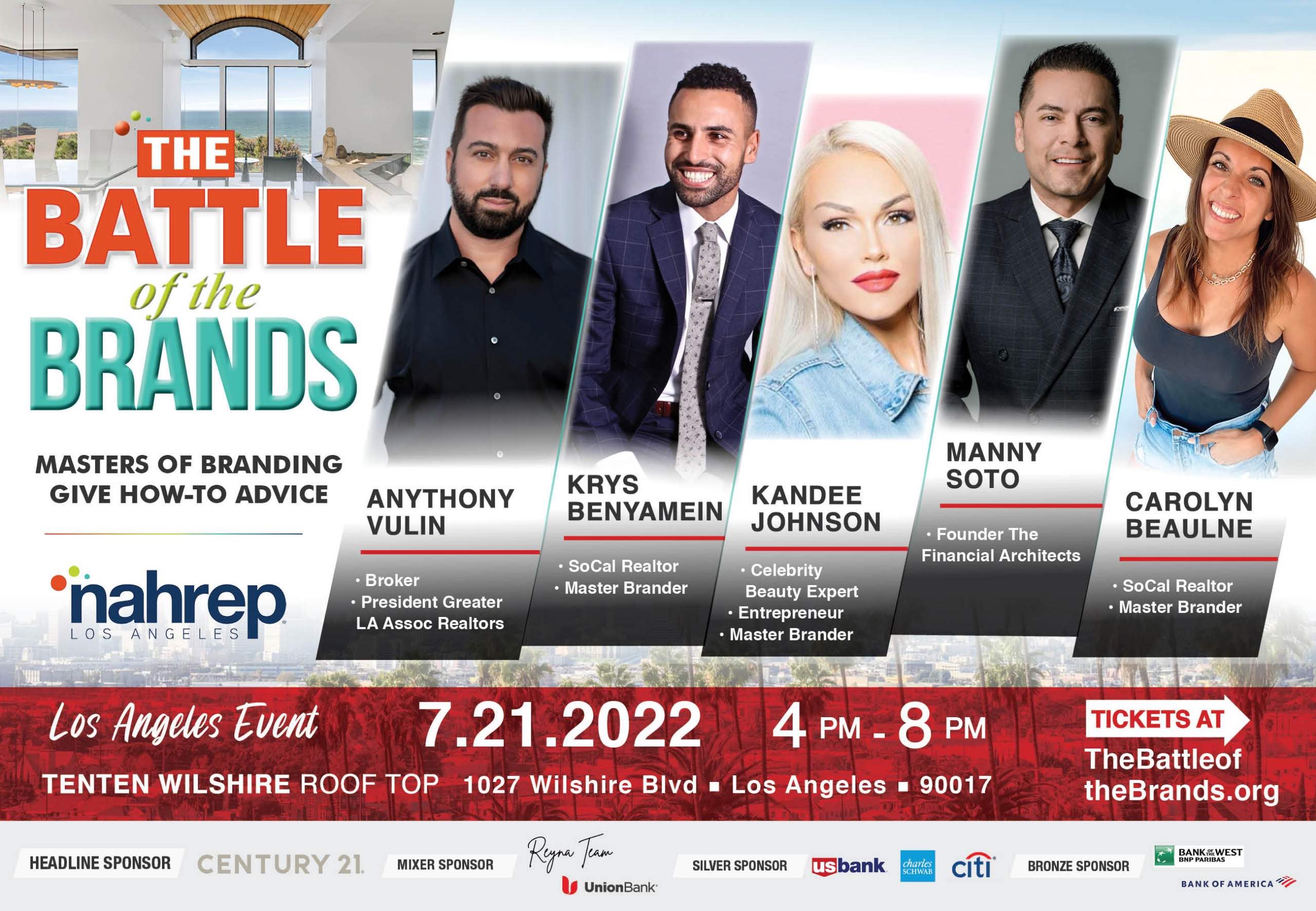 Krys7.14
Title: Battle of the Brands 7.21
Are you looking to build and grow your ONLINE BRANDING and Learn from Top Influencers succeeding in their space?
If your answer is "YES" then do we have the EVENT FOR YOU!
Your NAHREP Los Angeles Board invites you to our 2022 Battle of the Brands event July 21st! Join us to learn from our influential panelist of successful brand marketers who have grown and mastered how to stand out from the rest!
Event Details:
Thursday, July 21st 2022
4-8pm
TenTen Wilshire
1027 Wilshire Blvd
Los Angeles Ca 90017
This year's panel features:
Kandee Johnson
Forbes Top 10 Beauty Influencer | YouTube Star
| Hollywood Beauty Expert and Entrepreneur
Anthony Vulin
REAL ESTATE BROKER | Los Angeles | Owner of The Collective Realty | President Greator LA Assoc of Realtors
Krystopher Benyamein
LA Top Ranked REALTOR | Social Media Influencer
Manny Soto
OWNER and FRANCHISOR | The Financial Architects
Carolyne Salazar
REALTOR | TikTok and Instagram Influencer | AirBNB owner
We are accepting sponsorship opportunities providing more exposure for you and your business as well?
Visit the link below for more information!
https://thebattleofthebrands.org
#realestate #realtor #losangeles #losangelesrealestate #losangelesrealtor #nahrep #networking